What are the Sustainable Development Goals?
The Sustainable Development Goals (SDGs) are a set of goals which were adopted by the United Nations in 2015 as a universal call to action to end poverty, protect the planet, and ensure that by 2030 all people enjoy peace and prosperity. There are a total of 17 SDGs designed to tackle issues such as poverty, hunger, inequality, climate change and biodiversity loss. 
The goals are tightly integrated, meaning that action in one area will likely impact on other areas. At Fair Seas, we are mostly interested in SDG 14, Life Below Water, which aims to "conserve and sustainably use the oceans, seas and marine resources for sustainable development". The interconnectedness between this and other goals becomes clear when looking at the goal's targets, which include the significant reduction in marine pollution by 2025, the conservation of at least 10% of marine and coastal areas by 2020, ending overfishing and the subsidies that contribute to overfishing by 2020, as well as supporting small scale fishing. Achieving the protection and sustainable use of the world's seas therefore inevitably impacts on society and the economy as well as biodiversity.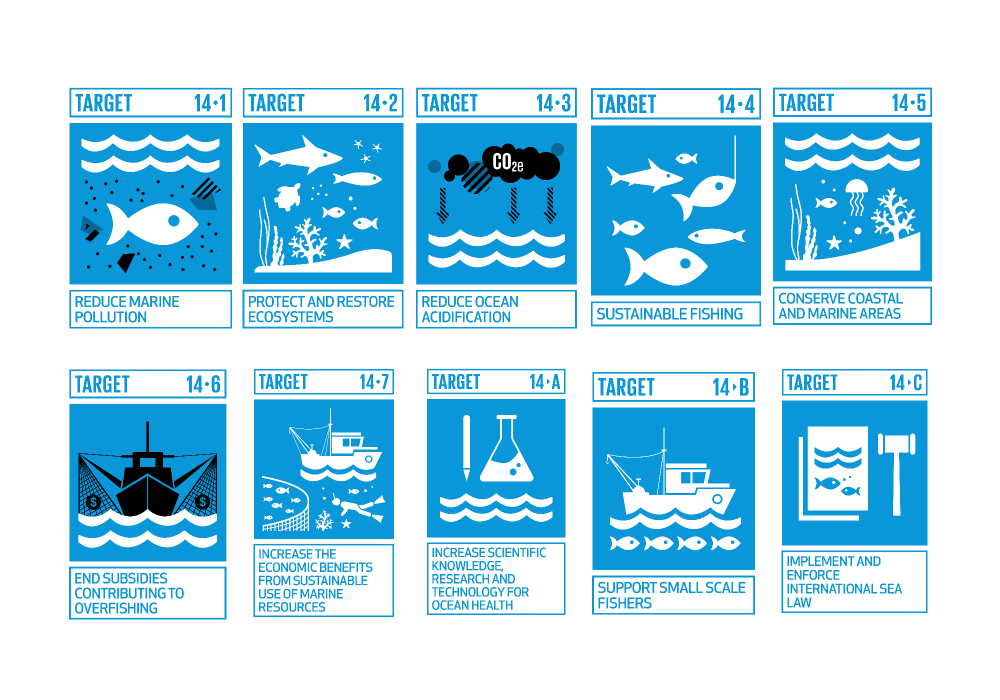 Despite the interconnectedness between the goals, they are often tackled in a very sectoral way. This led Johan Rockström and Pavan Sukhdev from the Stockholm Resilience Centre to draw up the SGD Wedding Cake model in 2016. This model reflects more accurately how economy and society are embedded in the biosphere. According to the model, the four biosphere goals Life Below Water, Life on Land, Climate Action and Clean Water and Sanitation form the basis for all other goals. 
How can Ireland achieve SDG 14?
Some of the SDG's targets are already contained within EU legislation. For example, the Common Fisheries Policy (CFP) aimed to end overfishing by 2020, while the Marine Strategy Framework Directive (MSFD) aimed to reach Good Environmental Status (GES) of marine waters by 2020. GES is achieved when all the 11 Descriptors of GES have been achieved, such as maintaining biodiversity, achieving healthy commercial fish populations, and minimising nutrient input, contaminants, or noise pollution. The Maritime Spatial Planning (MSP) Directive requires EU Member States to establish MSP plans using an ecosystem-based approach.
Together, these and other pieces of EU legislation would put Europe on a good path towards achieving SDG 14. Sadly, poor implementation of EU legislation has led many of the directives to fail in achieving their targets. Overfishing still takes place in 2022 (although some progress has been made), Ireland hasn't even come close to achieving its 2020 target of 10% marine protection, never mind the Government's bigger 30% target by 2030, with only 2.1% of Irish waters currently designated as a protected area, and Good Environmental Status has not been achieved.
Proper implementation of existing environmental legislation would ensure the achievement of SDG 14. In order to accomplish this, we must breach the silos between sectors and government departments and tackle the SDGs together, in an integrated manner, in this highly interconnected world.
At Fair Seas, we are working towards SDG 14 by calling for 30% fully or highly protected areas to be created with strong stakeholder participation. We are a coalition of Ireland's leading environmental non-governmental organisations and networks who want to see Ireland, with a renewed appreciation of the ocean, become a world leader in marine protection, giving our species, habitats and coastal communities the opportunity to thrive.
Keep up to date with Fairseas and MPA news and developments, by subscribing up to our newsletter here. Make sure to follow us on Instagram, Twitter and Facebook.
We also welcome you to join us in Cork on 8th June, where we are hosting our inaugural World Ocean Day conference. We are bringing ocean advocates, government, industry and key stakeholders together to map out the next steps for Marine Protected Areas (MPAs) in Irish waters.
Help us spread the word - please share!